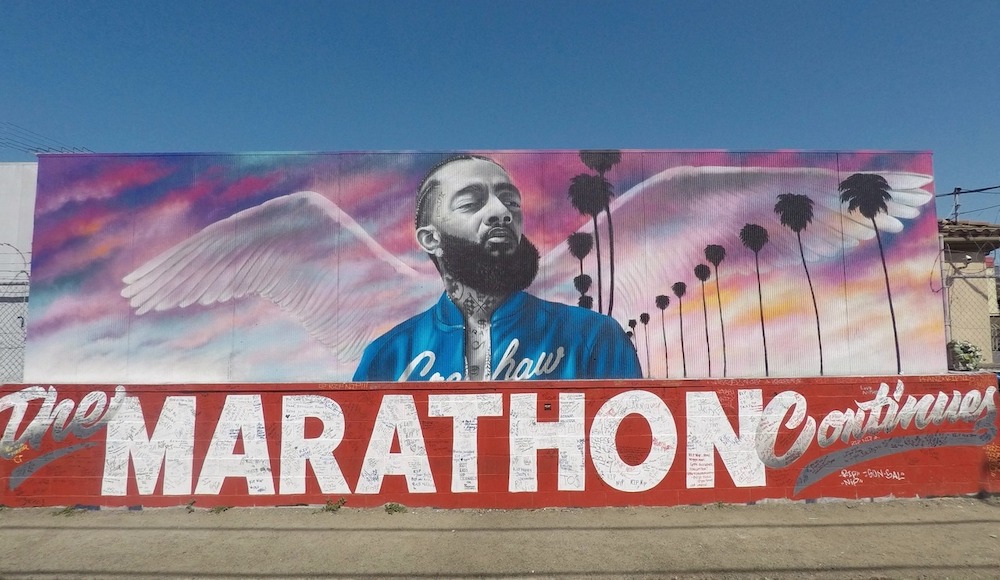 I met Nipsey Hussle once.
My best friend Reubin was starting to make a name as a producer in the DC-area music scene. He'd often work in a studio in the World Building in Silver Spring, where I'd tag along from time to time. One day, an L.A. kid with a funny name, tall and lanky with clothes that seemed to outweigh his body, pulled up early for a studio session. 
Nipsey Hussle, a play off of comedian Nipsey Russell. He introduced himself as Nip, was thoughtful, reflective and humble, selectively reclusive even. We dapped, I told him where to get the best Peruvian chicken, the artists jumped into the recording booth and that was that. We spoke for about 5 minutes. I wasn't really sure who, but I had just met somebody. 
On March 31, 2019, Nipsey Hussle was shot dead in broad daylight while standing in front of the store he owned. The better known Nipsey story is lazy: Gang-affiliated rapper murdered in South Central Los Angeles. 
I'll admit, I didn't follow Nip too closely after that chance meeting in 2010. But the news of his passing hit me hard and made me dive deep into his music and what he represented. And the best way I could think of to demonstrate the less-known, more meaningful, more impactful Nipsey story is to draw a parallel to education: Nipsey Hussle was a walking, rapping business school. 
In this piece, I'll outline the Harvard MBA curriculum and how one can derive similar knowledge by studying Nipsey the artist, the visionary, the student and force of nature.
Year 1, Fall: "
Begin the year with personal leadership activities, reflection, and small team projects."
But I don't want no help, just let me suffer through this
The world would not know Jesus Christ if there was never Judas
This knife that's in my back will be the truth that introduced us
And the distance in between us is the proof of my conclusion

(Bigger Than Life)
We start our first semester through Nipsey's early mixtapes, from Slauson Boy through the Bullets Ain't Got No Name series, which he started giving away for free (an early trait that would become a staple of his legacy). Here we see deeply personal reflections of a life of duality; abject poverty balanced with visions of wealth, a stone-faced Rollin' 60s Crip softened by artistic vulnerability. 
I think of this phase of Nipsey's evolution, from street hustler to successful artist and entrepreneur, as his inductive learning mode: going beyond facts and theories–a process that would eventually teach Nipsey how to manage organizations, but also how to continually grow and learn throughout life. Conflict is the only constant of this period's work, with flashes of ambition, creativity and original thinking serving as grounding weights while he seemingly walks a tightrope across tragic surroundings. 
This is very much a first-semester phase, where Nip draws frequent parallels between 'producing and packaging' music like drugs, showing us his business acumen but in a context we've heard before (Jay-Z being the most prominent in a long list of entrepreneurial hustlers turned rappers). But though he touches on familiar themes, listen closely enough and you'll feel teased by Nipsey's splashes of vulnerability amidst his chest-puffing, which leaves us excited to dive into the next semester. 
Look at where I started and look at where I'm standin'
Y'all can say it's luck, but I know that it's plannin'
Shout out to the pain, that gave me understandin'
Shout out to my gang, it turned me to a savage
So [people] could say what they want to but I go through what you haven't
But it's not ego-driven, it's not me boastin' and braggin'
This road I chose to go down, hard to slow down when in traffic
In order for me to grow, I had to let go of some habits
And it's easy to say I'm on now 'cause you see it, and it happened
But before it ever did, I had to believe and get it crackin'
So I'm gon' take you back then, 32 shots and my MAC-10
With a dream minus the means, my early teens was fuckin' tragic
And deep inside my mind is buried crimes you can't imagine
That I wrestle with at night, demons that I fight I can't get past it

(Bigger Than Life)
Year 1, Spring:
"Practice teamwork and deepen conversations about diversity as you prepare for a global immersion." 
Nipsey Hussle is both a character and survival mechanism. The man behind the mask was named Ermias, a first-generation Eritrean-American born and raised in South Central. Our second semester brings us to the East African homeland of his father, where Ermias began his transition from artist to movement. 
Prior to his first 3-month pilgrimage in 2004 (which Ermias had no interest in making), Nipsey was busy staying alive and making music. While they were released after his father dragged him to Eritrea for the first time, much of the content from Nip's first few projects reflect on his L.A. experiences. But his time in Eritrea changed him in two profound ways that would become central to the rest of his life: a value extension beyond himself and a change of pace that would ultimately define what he stood for.
Nipsey's life in L.A. was about individual survival, but he was shocked to be exposed to the importance of family in Eritrea, particularly in how businesses would shut down daily from noon to about 3 pm so that families can eat together. 
Still somehow I understood that I could make the seed grow
And that one day that tree will bear fruit to feed my people
That one day is upon us, grab your fork it's time to eat, bro

(Rose Clique)
Besides helping him find a purpose beyond mere survival, this revelation also taught him patience. In a culture where most artists brag about getting rich quick, Nipsey started shaping the concept of playing life's long game, which would ultimately define him, his art and the brands he would later build.
Look, marathon life it's all about the pace
Lot of [people] running sprints but they never win the race

(Call from the Bank)
Year 1, Summer: "The summer work experience."
The Marathon projects reflect the summer work experience of the Harvard curriculum. He was still putting out music for free, but with increasing creative confidence and a growing reputation. The bulk of my favorite Nipsey work was born here, and this is where we see Nip's first-principles thinking fully distinguish him as one of a kind visionary. 
Nipsey essentially defined the creator economy before it was even a thing:
There's way more profit in these clothes
So I give away this music and make double back at shows
I 360 myself then I exercise control
iHussle.com, my digital Louis store

(Forever on Some Fly Shit)
Nip frequently talked about the recording business being set up to prevent artists from having ownership, and backed up his talk by betting on himself early in his career. But far from an act of bravado, he also proved to be an astute brand marketer, drawing inspiration from characters like Mickey Mouse and Hello Kitty (around this time he started floating the idea of building an urban Sanrio, which would come later). 
And true to his label namesake ("All Money In"), he also preached reinvesting in his business:
"All money in, no money out" means being a real hustler. It's really following the rules you learn coming up playing with money…just spend it all on growing what you're doing. I bought equipment, built studios, and bought infrastructure. It might have been time to buy cars and jewelry for the age I was and the mindset of that age but it's about believing in what you're doing to the point that you invest in it."
Year 2, Fall: "
Choose from an unparalleled range of elective courses to build on the concepts developed in the required curriculum."
Nipsey's fourth semester was time for his business creativity to match his artistic creativity, taking his test-and-learn approach to the commercial side to build on the basic concepts learned thus far. His genius shined brightest in releasing his Crenshaw mixtape with a self-coined #Proud2Pay model.
Until now, Nipsey had given away all five of his mixtapes for free. With Crenshaw, he would continue to give the digital music away, but only pressed 1,000 physical copies and sold them for $100 each. All 1,000 copies were gone by the next morning (including 100 that Jay-Z himself bought). 
"I know the type of business we do with our merch, I know what the orders look like, and there wasn't ever a doubt that my people would spend $100 on a product of mine. It was really about justifying to them and making sure the value they got was worth more than $100."
He did the same the following year with his Mailbox Money mixtape, this time charging $1,000 while pressing only 100, to the same result.
"The Proud2Pay campaign was my take on the psychology of a purchase in an era where music is digital. The psychology of why you buy music in an era where you don't have to. I tried to reverse-engineer the purchase. What I realized is that there's another metric that we gauge the value of the product off of, and that's the level of inspiration. If you inspire somebody, they want to reciprocate that in the form of a purchase."
This is also when Nipsey became consciously aware of quality control, being careful not to just stick with a generic content blueprint that works (a "sellable cliche"). He frequently referenced musical influences outside of rap, from Gotye to the Goo Goo Dolls, and took pride in making tracks that bucked any kind of label (from "conscious" to "gangster") people would try to pin on him.
"It's about challenging the people that import accepted opinions instead of really changing themselves to feel a way about something."
And finally, despite success Nipsey stayed true to his unique brand of swaggy humility. He would puff his chest out in many songs, but constantly preached about the importance of maintaining a hunger to stay balanced and "outwork last year's version of yourself."
The title that I hold is what every one wants
But still I play the game like I never won once

(Tha Mansion)
Year 2, Spring: 
"Integrate the functional skills you've learned into an understanding of the firm as a total enterprise."
​​I laid down the game for you [people]
Taught you how to charge more than what they pay for you [people]
Own the whole thing for you [people]
Re-invest, double up then explain for you [people]
It gotta be love,
Who run the whole city, it gotta be us
This for the pieces I took off the Monopoly board

(Last Time That I Checc'd)
His last push towards graduation came as Nip released his first formal studio album some 15 years after starting to record. Victory Lap was the culmination of Nipsey's work, which he referred as the accumulation of his life's trial and error. And when it dropped on February 16, 2018, it wasn't even his highlight of that week.
The day prior, Nipsey opened the doors to Vector90, featuring a coworking space & incubator with 8 entrepreneurs-in-residence on the first floor and a STEM education center upstairs. This is perhaps Nipsey's greatest legacy: an obsessive need to reinvest in his community, to build a bridge from South Central to Silicon Valley and tell street kids it's just as cool to aspire to be Elon Musk as it is to be Nipsey Hussle or Kobe Bryant. 
My cultural influence even rival Lucien
I'm integrated vertically, y'all [people] blew it

(Victory Lap)
And never one to stop innovating, around this time Nipsey also opened the world's first "smart store"–The Marathon Clothing–on the same corner of South Central's Crenshaw & Slauson Avenues that he used to sell drugs on. 
While taking his daughter to the bathroom at a neighborhood Starbucks, he noticed a young man reading the bone structure of his hand off of an LCD screen. Ever curious, he introduced himself and learned the man–Iddris Sandu, just a teenager at the time–was working on an autonomous driving project for Uber. They exchanged contact and a few months later, Sandu was building an augmented reality app for Nipsey's store, where store visitors could access to unreleased songs not available anywhere else. A vertically-integrated Urban Sanrio.
"That's a business that we are new to, so we're going through the learning curve right now, but all things considered, it's doing well. It's paying for itself; we're making profit, it's paying for the employees. We're learning."
Graduation
This piece was difficult to write because there is so much more to be said about what Nipsey Hussle and his Marathon represent. For every quote and lyric I referenced for support, there are dozens more that would have been equally powerful. Nipsey spoke his imperfect truth unapologetically. 
Nipsey's death shocked the (Hip Hop) Culture and his funeral filled L.A.'s Staples Center, where all 21,000 tickets were gone in 30 minutes. Barack Obama sent a letter. And yet I wrote this piece because I still don't feel like his story is known enough. Why was it just the Culture in Staples Center on that April afternoon?
Nipsey was the first rapper to recognize and understand the new creator economy and how to leverage the Internet. He was the first to sell records for 10x more than others and sell them out in a night. He was one of the first rappers to invest in cryptocurrency, buying a stake of crypto venture Follow Coin in 2017. He was the first to build a STEM center for a forgotten L.A. community. He built the world's first content-focused "smart" store. And I'd be willing to bet that he's the first rapper to inspire a nationwide book club based off of books he referenced in interviews.
Having his life taken so shortly after this hypothetical graduation was a crime against all of us. Nipsey would never call himself a role model. He would let people choose who they want to follow, and if they chose to follow him or be inspired by him, he'd appreciate and embrace it. 
Watching him say that in an interview on Eritrean television, I flashed back to when I'd met him nine years earlier and it all made sense. I didn't remember much about that night because Nipsey didn't need to call himself a role model; he didn't need to make the room about him because we could already feel that it was. And if we chose to follow him he'd embrace it. 
A decade and a half later, spurred by the most heartbreaking of circumstances, I've chosen to be inspired by him. And I hope the world can meet him again.
Resources